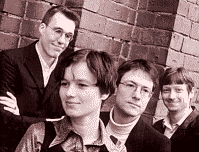 front:
Katja
back left to right:
Stefan, Hannes, Olaf
Northern Soul reached Berlin in 1985.
There were little parties in smaller clubs as well as big events in the "Stadthaus Böcklerpark". The latter twice a year.
Music policy was a mixture of 6'ties Northern oldies, Motown, 6'ties Northern newies and rare Modern Soul.
The Allnighters were well visited by a well mixed audience, so also people who weren't Mods get in touch with this music. A small Northern Soul community formed consisting of fans, dancers, collectors and DJs. But after the German unification the whole nightlife changed place as well as musical taste. Now the former East Berlin centre with its small clubs was the place to go. The clubs were too small to dance to Northern Soul, very expensive to rent and totally occupied by the raising Hip Hop, Urban Soul and of cause Techno movements. Except the Northern Soul community nobody seemed to interest in Northern Soul any longer. A decrease from over 2000 who once visited the "Stadthaus" to less than hundred. Although a highlight in the history of Northern Soul in Berlin occured in June 1991 when Mark Forrest arranged the first german weekender. Three top-DJs from UK (John Buck, Gary Spencer and Mark Soulie) and five german DJs were at the turntables. Unfortunately despite the members of the Berlin Northern Soul community hardly nobody showed up. A financal desaster for Mark but nevertheless a great experience for all who were there. Shortly after that the "old" "Stadthaus Böcklerpark"-DJs give up, one even sold her records and it got silent in the scene. Then 1995 three guys (Micha, Olivier, Costa), called The Farfisa Imperium, tried something new. In opposition to the raising Easy Listening movement they played strong Farfisa-organ dominated instrumentals in spite of the soft Hammond-organ ones. In addition French Beat, Garage Punk, Psychedelic, R&B and last but not least R&B orientated Northern Soul could be heared. Aim of this team is not to change to a classic Northern Soul event but to cultivate a mixture of high quality rare 6'ties music to show there is something beyond Beatles and James Brown. A policy which attract at least enough people to maintain. In spring 1996 some new actors showed up. Four men (Stefan (Screaming Jay), Hannes, Hermann (Jean-Luc), Olaf (Magic Shoemaker)) and one woman (Katja) out of the former Northern Soul community met by chance to decide that's time to reactivate Northern Soul on their own. Fortuna presented the nearly perfect room. An adjoining room of a theatre located in the centre of Berlin. The room called "Roter Salon" has a bar, tables and chairs along the walls a wooden dancefloor and a very 6'ties stylish ambiente. Right the first event was a success, so we arranged a regular monthly appearence. What the music policy concerns we mainly copied the "Stadthaus"-events; more oldies less modern. But we cancelled the strict fixed DJ-follow up along with the strict schedule. Instead always two DJs act together and the changes are made by sense. Since winter 1995/96 there are also occasional venues in small clubs, sometimes with participation of one or two of the "Roter Salon"-DJs, where Northern Soul is played in combination with Easy Listening or various kinds of 6'ties music. A new point of the Berlin Scene is that's not unusual that the actual DJs of a venue are supported with records by collectors or other DJs.